[MC – June 12, 2020] As of Friday at 12:01 a.m., Ontarians will be allowed to gather in groups of 10, up from the previous five. As well, the places of worship will be allowed to reopen.

Beginning today, Churches, mosques, synagogues and other places of worship are now allowed to reopen in Ontario with 30 percent capacity. Places of worship for the followers of Islamic faith have been posting information to ensure Ontario Government's guidelines are being followed.

Here's a list of few mosques across the GTA and surrounding regions.

Islamic Society of North America

ISNA is opening as of June 12 and taking registration for their 5 Friday prayer congregations as per an update on their website.

ISNA has also posted a helpful guide and a youtube video requesting cooperation from the faithful visitors.
Visit ISNA Canada website for further information.
Islamic Foundation of Toronto
Islamic Foundation of Toronto is opening as of June 12 as well as of Fajr (Dawn) prayers. The Islamic Foundation of Toronto posted on their website and reiterated Ontario government's announcement that religious institutions will be allowed to provide services of up to 30% of their capacity.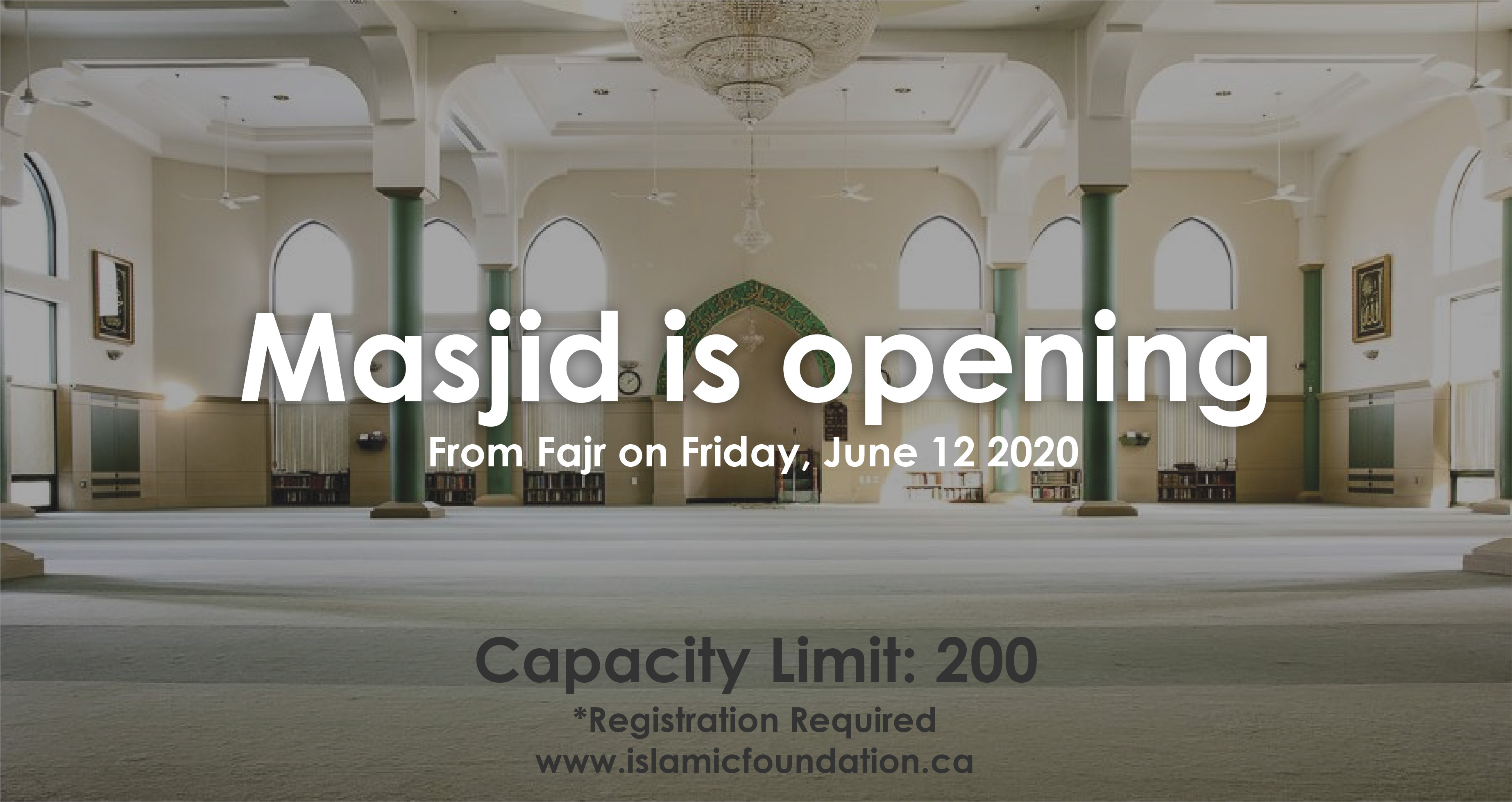 A message posted on their website states, "Effective Friday, June 12, 2020 we will be resuming Jum'uah Prayers along with all regular five times prayers in accordance with the directives of the Province, In-sha Allah. Your safety and well-being remains our top priority and as such we have put in place certain measures to ensure the health and well-being of our congregants in an effort to reduce and eliminate the possibility of the spread of the virus. We count on your continued cooperation and patience during the next few weeks as we implement these protocols."
Visit Islamic Foundation of Toronto website for further information.
Islamic Community Centre of Milton (ICCM)
The ICCM (a project of ICNA Canada) posted a message on its website earlier today and announced its reopening strategy. The communication states, "Our first and utmost priority is community safety. We are committed to following government policy, guidelines, and the recommendations of Public Health. Our goal is to minimize risk where we can. Keeping safety in mind, we are opening the ICCM facility slowly and gradually. We are opening the centre for regular prayer starting from Friday (12-June) at Maghrib prayer. Please note we a maximum occupancy limit of 60 people.
Visit ICCM website for further information.
Islamic Society of Markham (ISM)
ISM is opening its door again with limited capacity on Friday, June 12 starting at Fajr (dawn) prayers a few minutes before the scheduled Iqama time. ISM is requesting the visitors to review and adhere to Re-Opening Guidelines.
The detailed guidelines are posted on the ISM website.
Meadowvale Islamic Centre (MICI)
According to an update on MICI website, "No Friday/Daily Prayers Will Be Arranged At The Meadowvale West Church Until Mid July 2020. Church's Management Has Decided To Keep It Closed. We Will Announce With Updates In July."
Brampton Makki Masjid
Brampton Makki Masjid is opening as of June 12, 2020, and have posted a list of guidelines for the visitors.
The Masjid is enforcing certain restrictions, like other mosques, which include, registration requirements with name, phone number, address and email. The need to bring your own prayer mat and a clean bag for your shoes. The requirement to wear a face mask and gloves at all times.
Further details on the Brampton Makki Masjid website.
Scarborough Muslim Association – Jame Abu Bakr Siddique
Scarborough Muslim Association – Jame Abu Bakr Siddique is opening as of June 12, 2020 with certain restrictions.
For more information, visit their website.
Ajax Masjid Quba
The Ajax Masjid reopens as of June 12, 2020, and they announced 5 Jumma (Friday) prayers with some restrictions.
In an update on their website, the Masjid administration states:
1 – Bring your own bag to place your shoes.
2 – Bring your own prayer mat.
3 – Perform wudhu at home.
4 – Wear a face mask.
For further information, visit the Masjid Quba website.
Waterloo, Masjid (Muslim Society of Waterloo and Wellington Counties)
In a message posted on their website, the Waterloo Masjid announced their reopening.
"5 daily prayers in the Masjid are starting with Fajr prayer at 5am on Friday June 12th. It is with great joy that we look forward to welcoming all of you once again at the Masjid. This is a fantastic news, as we have all missed congregational prayers for the last 3 months. The regular prayers will be done within 10 minutes, and then please leave the Masjid promptly while maintaining physical distances. Please pray any sunnah or nafl prayers at home."
For further information visit their website.
Meanwhile, Saudi Arabia's mosques opened their doors to worshippers on May 31, 2020 for the first time in more than two months as the kingdom, the birthplace of Islam, eased restrictions imposed to combat the coronavirus.
---
If you have a press release or update that you'd like to send to us, please submit here.