GTA's popular Karahi (wok) restaurant chain has announced the opening of their patio section for both of its location, in Mississauga and North York.
The restaurant has transformed into a Patio style concept now giving their customers the same experience of traditional "Dhabas of Pakistan". And in their latest message on social media, they are inviting customers to visit them and experience the same great quality food & hospitality everyone loves, with Karahi Point, in the open sky.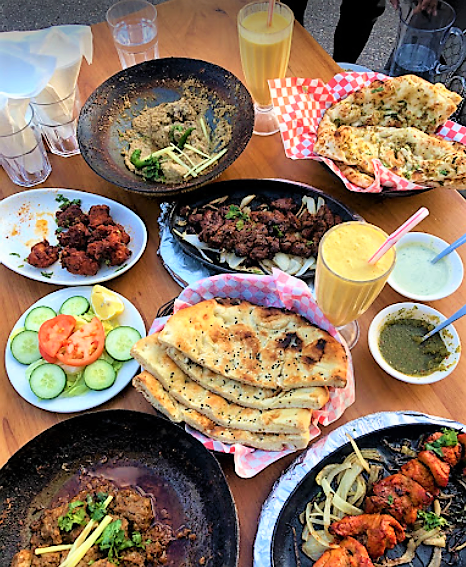 At Karahi Point, typical Pakistani specialties like Karahi are prepared with mouth-watering ingredients, slow-cooked, that tantalize your tastebuds with flavours of authentic spices. Their culinary experience provides customers options that include Chicken White Karahi, Chicken Peshawari Karahi, Goat Karahi and many more! The traditional ambiance with subtle seating and stainless steel utensils coupled with traditional music turns your evening into your memorable cultural experience.
Besides their Karahi (wok) specialties, make sure to ask your server about their Roghni Naan (bread). Soft and super delicious; it is baked with a good sprinkling of sesame seeds and brushed with butter before serving.
What is Karahi: Stews prepared in a karahi include chicken karahi, beef karahi, mutton karahi (usually made with goat meat, reflecting South Asian usage of the word mutton) and dumba karahi (made with lamb meat). Prepared in a reduced tomato and green-chilli base, a karahi is a popular late-night meal in Pakistani cuisine, usually ordered by the kilogram and consumed with naan
We have been to their Millcreek Drive location in Mississauga a few times before the pandemic started, and loved their Goat and Chicken Karahi options. Have a look at their menu to give you a sense of their options.
Their Patio dine-in hours are from 7:00 pm-10:30 pm every day. Visit Karahi Point on the web for more details.
Photo credits: Karahi Point | This article is not a paid promotion