[MC – June 14, 2020] Set to break the world record for new subscribers on YouTube, the Turkish drama Diriliş: Ertuğrul ("Resurrection: Ertugrul") has become a major hit in Pakistan.
In Canada, the drama was released by Netflix in the Turkish language with English subtitles in 2019. The series has been referred to as the Turkish Game of Thrones, and the Prime Minister of Pakistan, Imran Khan, praised the show in a public speech and recommended Pakistanis to watch it.
In Pakistan, the series was released on PTV (Pakistan Television) and received massive applause and following from the audiences. Within a month, the TRT Ertugrul by PTV youtube channel has exceeded 600 million views.
According to Turkish media, Ertuğrul's influence reached Indian Kashmiri viewers as well. Whereas across the Arab World, according to media reports, on February 10, 2020, Diriliş: Ertuğrul was banned in Egypt, Saudi Arabia and the UAE.
Shaan has been initially vocal about the airing of local content on Pakistan's national television which created a lot of debate a few weeks ago. However, just today, Shaan tweeted that he has finished watching Ertugrul and considers it a "classic".
Shaan went on to say special thanks to the producers, directors and the entire cast and crew who all worked tirelessly to make this epic.
Later, the actor further cleared the air around his earlier comments regarding the broadcast of foreign content on Pakistan's national television.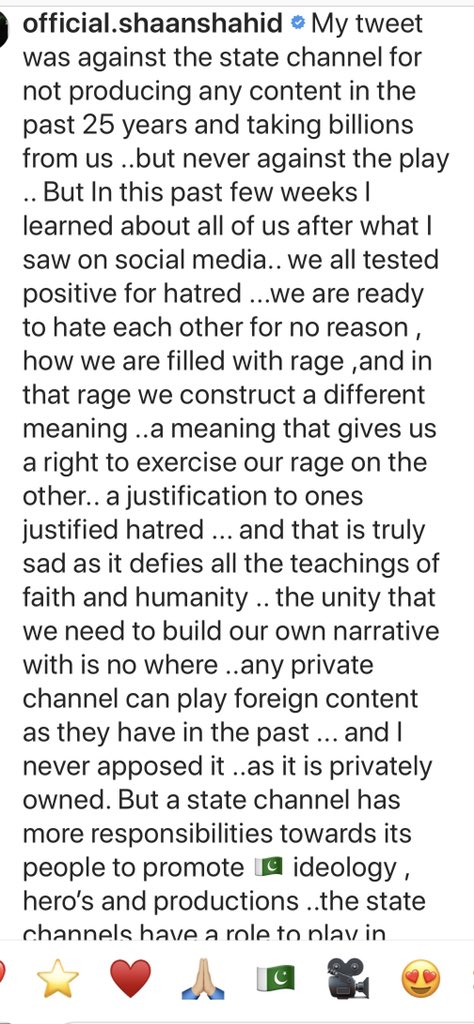 Earlier, Mehmet Bozdag, who is also the screenwriter of the drama Diriliş: Ertuğrul, told Turkey's Anadolu Agency that Muslims should not only work together in politics and trade but also in culture and the arts, and so business people should invest in the field of art.
"I am surprised that we did not make any collaborations till this day … we call each other brother countries," said Bozdag, referring to Turkey and Pakistan.
Shaan Shahid was more recently seen in the remake of Mahesh Bhatt's Arth, which Shaan wrote and directed.
Shaan has established himself as one of the most popular leading actors of Pakistan, he also writes and directs. Shaan started his acting career in 1990 by making a debut in Javed Fazli's film Bulandi opposite Reema Khan. He has won many awards in Pakistan including one Pride of Performance, fifteen Nigar Awards, and five Lux Style Awards. He is considered as the highest-paid film star in Pakistan.
"Zarrar" is the title of Shaan's next film, its first trailer was released on 23rd March 2020 and a release date is yet to be announced. According to media sources, Shaan has painstakingly worked on Zarrar, using the film as an opportunity to build the Pakistani film industry's technical capabilities.